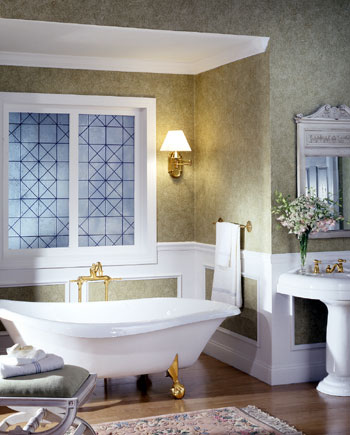 I started a project many months ago featuring a product on one of our wallpaper websites, WallpaperIllusions.com. It was truly a labor of love, and I'm so thrilled to have finally finished it. (No, that's not my bathroom on the left, but I do sell what's on those walls.) I guess what gave me the final push to complete it was the 20/20 Challenge.
Actually I finished my rough draft of The Paper Illusions Guide right before taking on the challenge. Then when I saw what the challenge was all about, I thought I could work the guide into it somehow. I vacillated back and forth on how to bring the guide to market, contemplating price points and developing/revising sales letters…my "detailitis" had flared up again…I was trying to make everything perfect.
Well, I found myself back at a familiar place once again, posing the question, "What is it that I'm trying to accomplish here?" The answer…besides making some money, I'm trying to grow a business. I'm trying to get the word out about this product to anyone and everyone looking to decorate their home…to educate them on this product.
So, I decided to offer it as a FREE tool to generate interest in the product.
While I'm still using the steps laid out in the 20/20 challenge to promote PaperIllusionâ"¢, I'm straying a bit to accomplish my pre-existing business objectives…spreading the word first. After I educate the public about this product, I have a plan to roll out some more great stuff and make my $20K early in 2008.
BTW, if you're interested in learning more about PaperIllusionâ"¢ yourself, pick up The PI Guide and read up on it…it really is a great product. (We sell a whole bunch of wall covering products, but this is my absolute favorite…if you read up about it, you'll understand why.)
[tags]Home Decorating Ideas[/tags]